Shark swimming teen inspires deeper understanding of young minds
Monday 9th November, 2020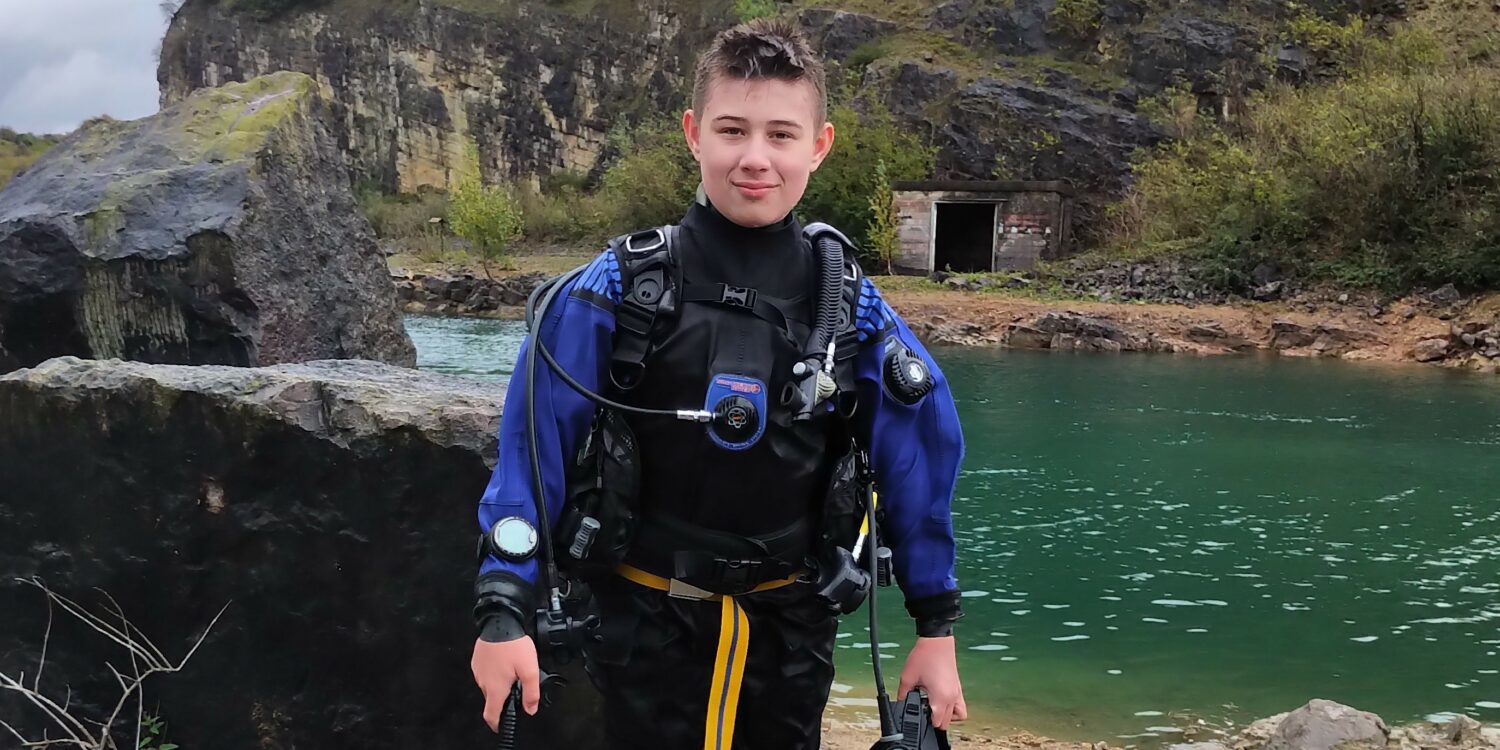 A brave Sutton Coldfield teenager who is braced to swim with sharks, celebrated Mental Health Day last month by encouraging young people to overcome their fears and embrace new challenges.
Fourteen-year-old diving enthusiast Callum Dawe, and his fellow Arthur Terry School students, took part in a competition for the 'Young Minds' charity's 'Hello Yellow' campaign, which aims to encourage schools to raise awareness of the importance and issues surrounding mental health.
The outstanding school, which is part of the respected Arthur Terry Learning Partnership (ATLP), asked students to produce a "creative and meaningful" 'Hello Yellow' image, representing the theme of mental health. The impressive entries included a picture of Callum in the water with his yellow diving mask and second stage breathing resource. This was accompanied by a caption, proudly outlining how he has also achieved two specialist diving qualifications.
As part of his second-place entry, Callum wrote:
"I struggle with my confidence sometimes, but diving has really helped me. It has been a challenge. I have made new friends and learned I can do so much more, and in January I will be diving with sharks.'
The message is even more remarkable, as Callum only started diving in August and had only participated in the activity once before, at a junior shark dive on his 13th birthday. The plucky student took to the activity like a "fish to water" and wowed organisers with his natural ability.
Hooked on diving, Callum has achieved the PADI (Professional Association of Diving Instructors) Open Water Diver and Dry Suit Diver certifications at Studley's Scuba School. His mother, Kelly Dawe, said that passing the practical and theory tests were "memorable moments" for Callum, who excels in Science, but accesses additional support at school for other areas of the curriculum.
She said: "This was such a big achievement for Callum. He achieved 49 out of 50 in his theory test too, we revised every day. We attended classes throughout the summer holiday, once a week for six weeks and then his open water was across a weekend. He made five dives over the two days. The club were brilliant and ensured social distancing at all times. At open water, it was raining, cold and he just kept going, we are very proud of him, he has overcome so much and made new friends.
"This has really boosted Callum, and the club have said he will go far if he continues. He will receive his PADI licence soon and will dive with sharks in January. The shark dive is usually from age 16, but Callum having his specialist licence allows him to do the AWARE PADI Shark Speciality course earlier. This has opened up so many opportunities and we know that he can achieve anything."
Now courageous Callum is steeling himself for the January dive at Blue Planet's 3.8 million litre tropical reef tank. The gutsy student will come face to fin with up to 10-foot long Sand Tiger Sharks, Stingrays, Black Tip Reef Sharks, Wobbegongs and Zebra Sharks, accompanied by professional divers. He will also learn about shark biology and the conservation threats to the animals in the wild.
Callum said:
"I'm really excited to be doing this and thrilled to be doing it at such a young age. Diving is giving me the confidence to realise I can achieve my ambitions and try new experiences and I hope that I can inspire others to take the plunge and face new challenges too."
Teachers have described Callum as "an awesome young man" and hope that his achievements will inspire others, as part of the 'Hello Yellow' campaign. Arthur Terry School 's competition was launched to support the initiative and raise awareness of mental health within its school community. Students Sian Irvin and Kaitlin Vandrill won first and third place respectively.
Teacher Hannah Barnwell said: "We received a variety of fabulous entries, many of which were accompanied by profound and inspirational meanings, which really highlighted the importance of mental health.
"A huge congratulations to our three winners, chosen because of their creativity and the powerful impact of their image. A big thank you to all the students that entered – it certainly got us thinking about the importance of mental health. We must keep talking about the subject and getting the message out there, because speaking up is the first step towards getting better."
The 'Young Minds' charity leads 'the fight for a future where all young minds are supported and empowered, whatever the challenges' to ensure that young people get 'the best possible mental health support and have the resilience to overcome life's difficulties'.