Caring primary school pupils collect gifts for nursing home residents
Thursday 17th December, 2020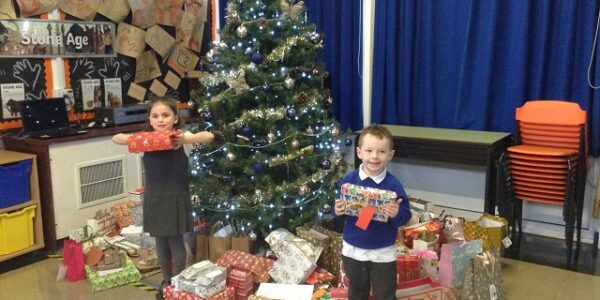 Residents at a Coleshill nursing home are set to get some extra special Christmas presents, thanks to the festive generosity of pupils, parents and staff at a caring primary school.
Last September pupils in Year 3-4 at Curdworth Primary School, which is part of the respected Arthur Terry Learning Partnership, struck up festive friendships with residents at Orchard Blythe Nursing Home, in Coleshill – sending them letters, drawings, cards and messages.
This year, they have decided to get even more festive – by collecting gifts for all of the residents.
And staff have been overwhelmed by the response from pupils and their families, with a huge pile of presents collecting under the Christmas tree in the school hall, ready for delivery.
Headteacher Lisa Dodd said: "Last year the children really enjoyed swapping letters and drawings with the residents at Orchard Blythe – they were so excited when they had messages come back to them.
"So, this year we decided to go even bigger, by collecting gifts and treats for the residents and involving the whole school. We contacted Orchard Blythe to find out how many residents would like to be involved, and to ask what their interests might be.
"The nursing home told us there were 45 residents who would love to engage with the children, so we wrote out to our parents, with the hope of getting at least one gift for each person.
"The response was absolutely incredible – and now we have two presents for each one!"
Year 3-4 teacher Kim Brown has organised the project, trying to match up residents' interests with pupils' families. Youngsters were also given gift tags to fill in with personal messages to go on each present.
Mrs Dodd explained: "We really wanted to give them gifts they would use or cherish. So, for example, there was one lady who said she liked knitting, and we had a pupil whose nan was a knitter – so we pared them up.
"Another resident said he was an Aston Villa fan. As luck would have it, one of our parents works at the football club, and we have lined up a very special present as a result!"
Now the presents, which are being quarantined both before delivery and once they arrive at the nursing home, are providing a festive centrepiece under the Christmas tree in the school hall.
The link-up with Orchard Blythe is just one of a number of things Curdworth staff have organised to make sure 2020 finishes with a festive flourish at the school.
"Because of the pandemic a lot of the things we would usually have done at Christmas – all the plays and singing – have not been possible," Mrs Dodd said.
"So, we have made a real effort to find other ways of bringing Christmas alive. We have had a contest between the staff to decorate the school's doors which has really got everyone into the Christmas spirit.
"We had a non-uniform day to collect sweets and treats for Erdington Food Bank which everyone really enjoyed.
"And we're organising our own 'Curdworth Christmas Day', which will be a nice surprise for all the children. I can't say too much about that, because it's top secret!
"I'm so proud of how the school has come together for Christmas and we're all looking forward to finding out how the residents at Orchard Blythe react when they open their gifts."
Captions:
Reception children at Curdworth Primary School with some of the gifts for residents at Orchard Blythe Nursing Home in Coleshill.
Teacher Kim Brown with Year 3-4 children and just some of the gifts they have collected for residents at Orchard Blythe Nursing Home in Coleshill.