SPORTS STARS GET GLIMPSE OF NEW NETHER STOWE SPORTS HALL
Tuesday 6th July, 2021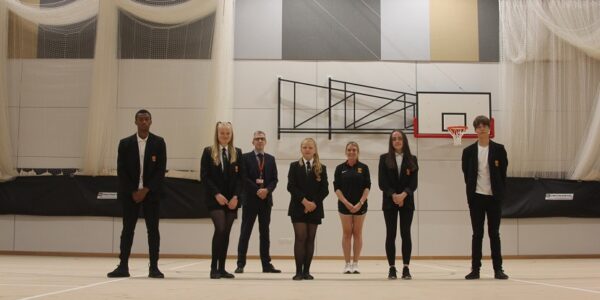 Five up-and-coming Lichfield sports stars were given a sneak glimpse inside their school's state-of-the-art new sports hall as it nears completion.
The huge new facility is part of a £4.2million expansion of Nether Stowe in St Chad's Road. Funded by Staffordshire County Council and overseen by Entrust, the expansion has also seen classrooms, science labs and a new reception unveiled at the school, which is part of the respected Arthur Terry Learning Partnership (ATLP).
Finishing touches are now being put to the sports hall ahead of its opening in the next academic year, so staff decided to satisfy students' curiosity by choosing five of their outstanding sports stars to take a look around.
Ed Turner, 16, Sophie Pardoe 15, Will Edwards, 14, Ruby Marshall, 13 and 12-year-old Mansel McAulay were the first students to step inside the building.
Headteacher Glyn Langston-Jones said: "The sports hall will officially open in September but we wanted to give students a sneak preview.
"We chose these students because they have represented the school so fantastically in lots of sporting activities over the last two or three years.
"We really wanted to give them a chance to come and see what they can look forward to in the future and how that will help them continue their success going forward."
Cricketer Ed said he was looking forward to using the new nets in the hall.
He said: "It's really good – so much better. I'm in the Sixth Form now, so I'm determined to use it while I can. It was great to be one of the first people to see it."
Talented young sportsman Will said: "It's amazing, to be honest! Obviously, from the outside it looks big, but I wasn't actually expecting the inside to be this big.
"It's bigger, it's brighter, it's warmer. It's just better!"
Sophie, who plays netball, said: "I really like it. It's a big court and better than the small one in our old gym.
"I think if we play against other schools it will be better for us – because we'll have a bigger space to practice in."
Ruby, who excels in netball and trampolining, said: "It's very modern, very nice – and huge!"
Mansel, who is an outstanding netball and rounders player, said: "It was really good because all of my friends have been asking me about it and going 'I wonder what it will be like in there' – now I can tell them a little bit about it, but not spoil it too much!"
Head of PE Nicola Hampton said: "It's an amazing facility that, I think, as a school we really needed.
"We now have a facility where we can accommodate a lot more sports and have a full-size netball court, means we can hold fixtures at home and we can host tournaments too.
"It gives students an opportunity to be able to undertake lots of different sports. It's very exciting."
Last month, Education minister Gavin Williamson officially opened the state-of-the-art extension at the front of the school.
Contractors Novus began work on the new facilities last year on behalf of Staffordshire County Council and the ATLP.
Caption:
Will Edwards, 14, Ruby Marshall, 13, headteacher Glyn Langston-Jones, Mansel McAulay, 12, Head of PE Nicola Hampton, Sophie Pardoe 15 and Ed Turner, 16 in the new sports hall.