JOHN WILLMOTT STUDENTS HAVE DESIGNS ON THE FUTURE IN ECO PROJECT
Tuesday 20th July, 2021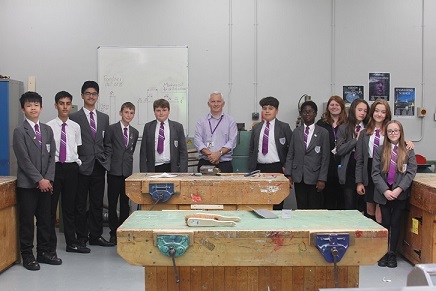 Students from John Willmott School predicted the future for a project that saw them design buildings for coming generations, while getting insight into their own careers and opportunities.
Fourteen pupils from Years 8 and 9 joined the Industrial Cadets Bronze project, getting valuable exposure the world of work in STEM subjects – Science, Technology, Engineering, and Mathematics.
Three teams from the school, which is part of the respected Arthur Terry Learning Partnership, were mentored by newly-qualified engineers in the 12-week project, after choosing a task called Future-Proof: Designing Buildings for Climate Change.
A student from each team was chosen as Project Manager, as they prepared a structured report on the future needs of buildings in different places around the globe from Birmingham to the Caribbean.
Jeff Lane, Head of Faculty for Technology, said:
"The students did amazingly on this project, because it involved a lot of independent working, with their project managers really driving the teams, learning leadership skills, about teamwork and researching, as well as discovering new technology."
Maddison Lawrence, 13, said her team had designed a future children's hospital for Birmingham.
She said: "We had to think about what the weather will be like in the future, and how we would have to protect the building from climate change which was really interesting. It was fun and I want to do it again for the silver award."
Ismail Anwari (14) said: "My role was to research materials that were sustainable and help to choose a location for our building that was good for the environment. We chose a house in Puerto Rico, which we tried to make as eco-friendly as possible."
The John Willmott pupils gained recognition for their work – an outstanding achievement in a scheme that involved more than 100 teams from 50 schools.
DT Technician Paige Cunningham said: "Each group had their own mentor from an industrial company which was very helpful and the pupils all got on really well with them.
"The students got a certificate for completing the bronze course, which is an acknowledged award which they can put on their CV if they do choose to go into industry, and we're already getting ready to start the silver project in November."
Caption:
Jeff Lane, Paige Cunningham and some of the John Willmott students who excelled in the Industry Cadets project.