Students are the stars of ATLP awards
Tuesday 5th July, 2022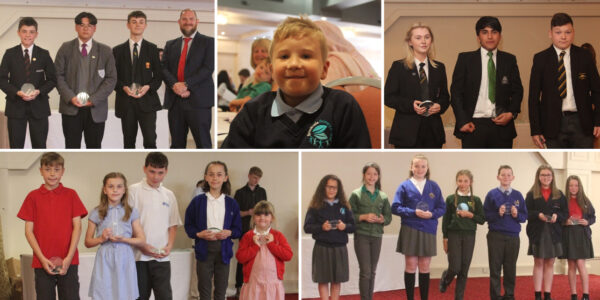 More than 100 students from 19 schools were recognised for their outstanding achievements at a remarkable awards ceremony on Thursday, June 30th at Drayton Manor.
The event was the first Student Awards ceremony to be held by the respected Arthur Terry Learning Partnership (ATLP) since the pandemic, and featured prize-winners from primary and secondary schools in Coleshill, Coventry, Erdington, Lichfield, Sutton Coldfield and Tamworth.
All children and young people were nominated by their schools and received trophies and certificates in recognition of their outstanding contribution to school and community life.
The students represented Arthur Terry, Coleshill, John Willmott, Nether Stowe, Stockland Green and West Coventry secondaries and Brookvale, Coton Green, Curdworth, Greysbrooke, Hill West, Mere Green, Osborne, Scotch Orchard, Slade, St Chad's, St Michael's, Two Gates and William MacGregor primaries.
The awards gave the students an opportunity to share their success with fellow ATLP pupils, headteachers, staff, governors, trustees and parents, before going on to enjoy the rides at Drayton Manor.
The growing success of ATLP meant the awards were split into two different sessions across the day, each introduced by ATLP CEO Richard Gill CBE, who praised the collective achievements of the students.
Speaking after the events, he said: "It was fantastic to get everyone together to celebrate our fourth student awards, which really highlighted some of the amazing students we have in our growing ATLP family.
"We have around 10,000 students at our 19 schools, so everyone of the 114 students who received an award should be immensely proud to have been recognised. Each one of them was nominated by their teachers, and they really do represent the very best of ATLP."
Comperes and prize-winners were Charlie O Neill, from Stockland Green, Grace Sandbrook and Ayla Darwood, from Hill West Primary School, Brandon Clarke and Joe Garfield from Nether Stowe School and Gracie Mae Jackson, from William Macgregor.
They introduced the six award categories: community, extra-curricular, contribution to school life, charity fundraiser, creativity and special endeavour.
Mr Gill thanked governors, trustees, and schools for giving children opportunities to shine.
He said: "Across our 19 schools, children lie the heartbeat of everything we do. Our headteachers and staff do a wonderful job, working so hard to ensure out students reach their potential, day-in day-out. I'm proud and honoured to be part of this learning family, and It's wonderful to be able to celebrate their joy and success together in this way."
John Vickers, chair of ATLP's trust board, said: "This ceremony acknowledges and celebrates the many achievements of the young people within our partnership. They are our future and it is a future we can face with confidence because it will be safe in their hands.
"Our partnership is committed to the development of the whole person, with the aim of helping each individual to be the best they can be, in all the ways it takes to become a successful, clear-thinking member of society."