School Assembly – Tamworth pupils to star in spooktacular community show
Monday 9th March, 2020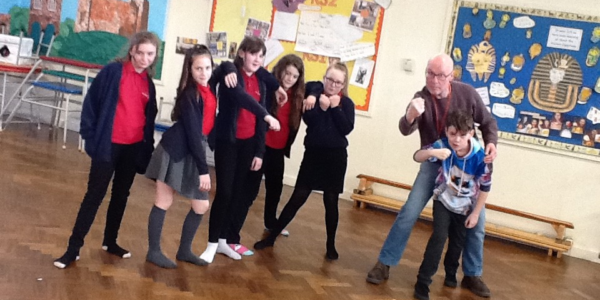 Professional director Simon Quinn from Fired Up Theatre, in association with Tamworth Assembly Rooms, invited ATLP's Two Gates Primary School students to take part in the forthcoming community production 'The Days of Abigail Skyrocket'.
Abigail Skyrocket – the ghost of Tamworth Assembly rooms – which takes to the stage on March 7th, is set to take audiences on a roller coaster journey through some of the highlights of the last 130 years at the famous venue. With drama, dance, projection, choirs and an eclectic mixture of music and magic, this first exciting community performance in the newly refurbished venue aims to provoke a sense of both nostalgia and enjoyment.
Two Gates students will be performing to Pink Floyd's 'Another Brick in the Wall'– re-creating the performance of past pupils from the school when the complete production of 'The Wall' was staged five years ago.
The children have been rehearsing every Monday after school since January 13th.
For details please visit: https://www.facebook.com/events/tamworth-assembly-rooms/the-days-of-abigail-skyrocket/205088237297896/